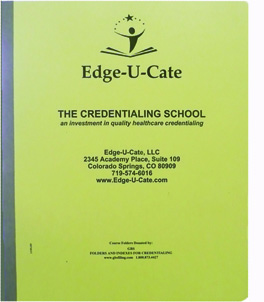 Since 2008, Edge-U-Cate has been offering two distinct 4.5 day intensive Credentialing School courses: Hospital Basics and Beyond the Basics,
See our Calendar for dates, and our brochure for more information.
Healthcare experts agree that an organization's credentialing and privileging system is the foundation of quality patient care. While credentialing and privileging decisions are the ultimate responsibility of the Medical Staff and Governing Body, each group relies heavily on medical services management and credentialing personnel to manage an effective credentialing and privileging process, and serve as an internal resource for the medical staff and administration when credentialing issues are identified.
Comprehensive practitioner credentialing is more important today than ever before. It's estimated that at least 5% of all physicians in this country have significant quality, behavioral, or substance abuse issues that adversely affect patient care; and negligent credentialing claims against healthcare organizations are on the rise. The demand today for qualified, appropriately trained credentialing and medical services management professionals far exceeds the current supply. Edge-U-Cate created The Credentialing School to provide the training necessary to meet today's demands for qualified personnel in this critical role.

Just-in-Time Training
Four and a half day intensive courses
Nationally recognized faculty
Certificate of Completion / NAMSS CEUs
Timely, convenient, affordable
Class sizes are limited, so early registration is encouraged!
Sponsors of The Edge-U-Cate Credentialing Schools:
PREMIER PLUS SPONSORS
ABMS Solutions/Certi-FACTS: www.certifacts.org
ABMS Solutions and our CERTI-FACTS Online products allow users to navigate primary source board certification information for over 850,000 medical professionals - primary care physicians, physician specialists and subspecialists in more than 145 specialties and subspecialties recognized by the American Board of Medical Specialties (ABMS).  We are the only PSV provider with daily updates to the ABMS database.

American Medical Association (AMA) www.ama-assn.org
The nation's trusted source for core credentialing information, the AMA provides Physician Profiles for initial credentialing and reappointments that are accepted by Joint Commission, NCQA, AAAHC, HFAP and more.  In addition, AMA Continuous Monitoring Service automatically notifies customers whenever physician credentials change.  AMA is also the sole distributor of AAPA Physician Assistant profiles.

American Osteopathic Information Association (AOIA)  www.osteotech.org
AOIA provides comprehensive primary source verification of DO credentials to state medical licensing boards and all healthcare entities.  Used in combination with established credentialing procedures, this meets primary source requirements for osteopathic medical education, AOA and ACGME postdoctoral training and AOA and ABMS speciality board certification for all accrediting agencies.
Board Certified Docs - by Elsevier: www.boardcertifieddocs.com
BoardCertifiedDocs.com (published by Elsevier) is an official ABMS Display Agent.  It is the only website with primary source board certifications PLUS additional professional data that includes NPI #, active state license(s), hospital and academic affiliations, etc.  Take advantage of unlimited access for the duration of your subscription, including free Alerts to notify you of certification changes or any change to a profile. Faster search options, additional features for easy credentialing and more.  Mini-subscriptions and data licensing are also available.
PREMIER SPONSORS
Federation of State Medical Boards (FSMB) www.fsmb.org
Morrisey Associates:  www.morriseyonline.com